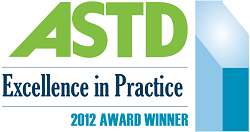 We are thrilled to announce that ReSource Pro's Learning and Development department in Qingdao, China has recently been recognized for their Achieving Business Results Through ESL Learning program. The program has been selected to receive an American Society for Training and Development Excellence in Practice citation in the Organizational Learning and Development category for the 2012 award year.
There are many ESL programs in China but few corporate English programs are earning this kind of distinction. This program is one of many offered to the to our team members working in our Qingdao and Jinan offices in the Shandong province of China.
The American Society for Training and Development (ASTD) is the world's largest association dedicated to professional training and development. ASTD members are found in 100 countries (www.astd.org).