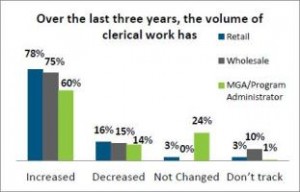 In January 2013, ReSource Pro founded ReSource Pro Analytics, the insurance industry research and analytics arm of ReSource Pro.  ReSource Pro Analytics is focused on deepening understanding of operations efficiency and effectiveness and the drivers of productivity in the insurance industry.
In April 2013, ReSource Pro Analytics partnered with Insurance Journal to conduct a survey to better understand approaches to, and perspectives on, insurance operations management by principals, managers, and employees within the retail, wholesale, and MGA segments of the industry.
We invite you to check out the survey results and how you compare with these industry benchmarks!
Click here to download a free copy of the report.
Check back often for more insights on Insurance Operations best practices.