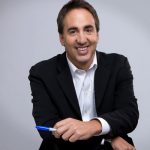 …and we're back with part two of our interview between your trusty editor and HNI Risk CEO Mike Natalizio (check out Part 1 if you missed it).
Here's the thing: Change is hard. Even if you've decided to move toward a new tech-heavy business model, you're still going to face significant challenges in achieving employee buy-in and turning your big plans into reality on the ground. And yes, there will be risks. Companies that stray too far from their comfort zones might even face some backlash from customers (hello, Netflix). But in Mike's view, you might just have to hold your nose and take the plunge once you've done your relevant research. Chances are you'll thank yourself later.
RSP: We've discussed your "office-less" model and your use of social media tools to encourage internal dialogue at HNI. How have your employees responded to this project?
Mike: Well, we're relatively new to this. We first started using an internal Twitter-style tool called Yammer to share what was going on with the team. It wasn't really collaboration, but it was a step into the social business space. We weren't just writing "its my bday I have cookies," we were updating each other on business stuff with lines like "just met w/association leader, he said our company is great," etc. It was meaningful to our business as a soft way to stick our big toe into the water and to start talking about the business more openly. Now that our internal culture is more social, we're more comfortable participating in social media interactions with our clients, prospects, and business partners.